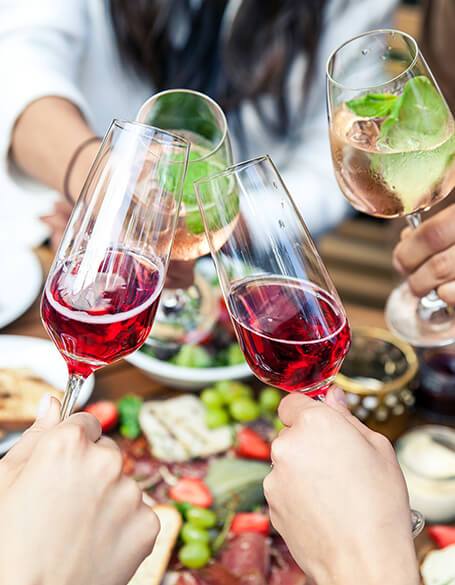 Wine Gift Baskets
Our Wine Gift Ideas for Mom: Hazelton's Gift Baskets has great gift ideas for every occasion. Give Mom what she really wants for her birthday or that special event, our Wine Gift Baskets and Wine Gift Sets are perfect for her. She'll love our 'Fine Wine & Pears Gifts' or even the 'Dazzling Delights Gourmet Gift Set' to enjoy by herself.
Our Wine Gift Ideas for Dad: We have special Wine Gift Baskets that would make the best present for Dad. We have something customized for every kind of Dad. You can get the 'Handyman Gift Basket' for the DIY father, or our 'Golf Pro Gift Set' for the golfing fan.
Our Wine Gift Ideas for Friends: You can customize your gift basket to have anything you want. You can pair our rich vintage wines with gourmet cheeses and charcuterie boards, or pastries and chocolate covered strawberries. At Hazelton's, we're confident our customizable wine gift baskets are ideal for any occasion like birthday gifts, and anniversary gifts. Our baskets also make great wedding gift ideas, and housewarming gift ideas for friends and family. Some of the Items we offer are our selections of cheeses, including the Western Dairy Creamy Brie and the Châtelain Camembert, or our gourmet options like Antipasto, Bruschetta, Chutney, and crackers to go with.
Our Wine Gift Ideas for Bosses and Co-workers: If you need gift ideas for a crowd, we have gifts for all occasions. We have Gift Baskets perfect for sharing in the workplace, with your boss and your co-workers. The 'Ample Wine Gift Basket' comes elegantly wrapped containing both White Wine and Red Wine, and lots of goodies for all tastes, and the 'Luxury Wine Crate' is sure to make a good impression.